Heavy Components Turning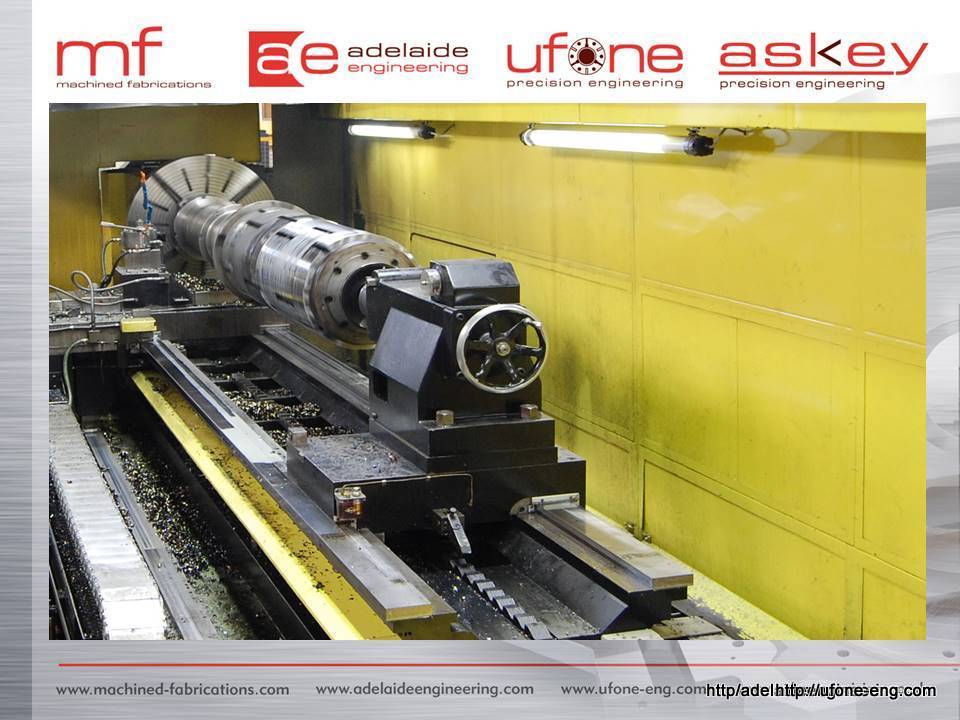 May 24th 2018.
Adelaide Engineering had an enquiry for Heavy Components Turning, the heavy part needed to be turned on all over to very fine tolerances. Adelaide Engineering were asked to quote a 2 off heavy components on a short lead-time. The heavy components needed to be delivered on a tight delivery schedule.
Our Approach to heavy components turning
Adelaide received the proof machined billet. The heavy components need to be checked on all diameters and re centred on our Large Horizontal Borer. Adelaide then set the heavy component on Binns & Berry Heavy Lathe, we machined all diameters to semi-finish, then all diameters were finished to final sizes. The heavy shaft was they moved on to the DMG for the milling and drilling of the keyways We completed within a 10 week period and the finished parts were inspected with our Faro arm and mircometer's.
Adelaide Engineering deliver the large component machining to the customer, with zero concessions. We will continue to delivery high quality to a valued customer.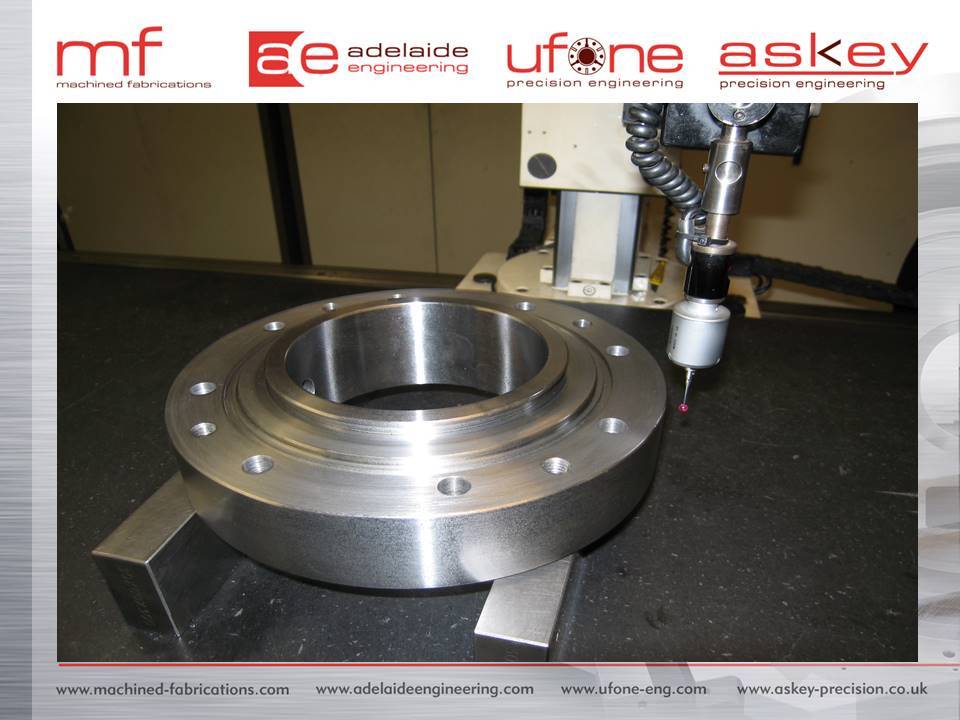 Group Heavy Components Machining
Adelaide Engineering offer: Heavy Components Turning on components up to 20 tonnes.
The 18,000 sq/ft machining bay holds 12 machines, large milling & turning, horizontal boring, large component machining .
CNC Lathe 6,000 x 1,200 dia
CNC Lathe 4,000 x 1,000 dia
CNC Bed Mill (4th axis) 5,000 x 900 x 900
CNC Bed Mill (4th axis) 3,000 x 1,500 x 1,200
CNC Horizontal Borer 3,000 x 2,000 x 1,500
Ufone Precision Engineers
Large Horizontal Boring Capacity, Large Turning, Large Capacity Machine Shop, Large turned & machined parts up to 20 tonnes 24,000 sq/ft machine bays, 16 machines including
CNC gantry mill 5,000 x 3,750 x 1,250
CNC Bed mill 10,000 x 2,000 x 900
CNC Jig Horizontal Borer 's 5 off up to 2,500 x 1,250 x 900
Vertical Borer 3 off up to 3,200 dia x 1,250
Machined Fabrications offers large subcontract fabrications , large subcontract machining parts up to 10 tonnes . The 18,000 sq/ft fabrication bay can CNC profile , fabricate and weld to BS EN 1090-1 2009. We also stress relieve and spray paint on site. The 25,000 sq/ft machining bay holds 12 large milling and horizontal boring machines.
CNC gantry mill 4,850 x 3,150 x 1,200
CNC Bed mill 8,100 x 2,000 x 1,250
CNC Horizontal Borer 3,200 x 2,000 x 1,500
Askey Precision Engineering Ltd Precision Machining, Precision Turned & Machined parts up to 6 tonnes, Large Diameter Components Design & manufacture jigs and fixture, Precision Parts 10,000 sq/ft machine bays, 16 machines including
CNC Milling 1,000 x 750 x 600
CNC Bed mill 4,000 x 1,500 x 900
CNC Horizontal Borer 2,500 x 1,250 x 900
CNC Turning 600 dia x 2,000
The Group also includes Machined Fabrications Ltd , Askey Precision Engineering & Adelaide Engineering Co Ltd as well as Ufone Precision Engineers Ltd
For a full comprehensive list of our available Heavy Components Turning services view our group sites.
Contact us for more information...
< View more News & Events...